Bar Talk with Kent Davis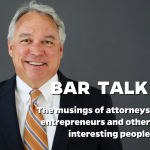 Bar Talk with Kent Davis
A Brad Parker Podcast
In this episode Attorney Brad Parker visits with Attorney Kent Davis about the past, present and future!
Hi I'm Brad Parker the attorney you want but hope you never need this another edition of Bar Talk: the musings of attorneys, entrepreneurs, and other industry people. A podcast by people who don't have to be famous they just have to be interesting. Each episode will tackle topics big and small sometimes tiny faced by attorneys entrepreneurs and other fascinating people who know everyday you wake up, it's a good day, but it takes a little more to make it a great one.
Brad Parker:
Good afternoon. Glad you are able to listen to us. This is Brad Parker with Bar Talk: the musings of lawyers entrepreneurs and other interesting people today. I've really got a great guest with me, Kent Davis an old friend of mine both in the literal sense and in the length longevity sense Kent and I have known each other for I guess going on 20 years haven't we?
Kent Davis: It has been 20 years.
BP: Wow. We'll talk about that in a minute. But Kent is a lawyer here in North Richland Hills he's got a probate and real estate practice. Litigators call those guys dirt lawyers because they just wallow around in the dirt while we do the real heavy lifting.
KD: and that's what we call ourselves too.
BP: But ah, Kent has got a really great practice going. He's one of the few attorneys, in fact he's the only attorney I know who has a sound studio inside his offices. And that's because of the many things that Kent does. He's plays in a band. He's got a national championship in basketball, a thriving practice, beautiful wife, wonderful family. He's he's he's the epitome of success.
KD: It's a wonderful life is what I keep telling myself.
BP: He has done very very well. How are you doing?
KD:
I'm great. Glad to be here. Thanks for having me.
BP: Absolutely.
KD: Done anything like this since we did your radio show a few years back.
BP: You know that was a lot of fun.
KD: It was we had we had a great conversation.
BP: Yeah I think the only people that ever called in was people that knew me.
KD: Yeah yeah other lawyers that paid sabotage. Well they want to steal your advertising.
BP:
Well you know the broadcast range on that radio station I think was about a quarter of a mile.
KD:
So like Brad I don't know anything about what you practice but here at Dewey Cheatham and Howe we do this that or the other.
BP: Yeah that's exactly right. But now that was a lot of fun . Gave me the first taste into the foray of a broadcast then on this podcast this is this is our virgin voyage on the podcast . So thank you for being here and helping me out with this. So tell me about your practice how long you been practicing law?
KD:
Well we were licensed on the same exact day as I recall November 8 1985 when we most were sworn in by the Supreme Court folks down in Austin at the Erwin arena.
And so I've been practicing, this is starting I guess our third or fourth year.
BP: You know behind every great lawyer there's a great story. And that's why I really wanna concentrate a little bit on today is your story and learn a little bit more about you. You know I know you grew up out here in the north Richard hills HEB area, Why did Rand McNally even give him a dot when you moved here?
KD:
I don't think so. So my parents my dad was a builder and started building houses probably in the late 50s early 60s and when we when I was born we lived two streets off a highway 10 on Ruth Lane little frame houses that my dad started building with money borrowed from my mom's dad. So that's how he got into the business. Then we moved up towards Shady Oaks Elementary School off of Bedford useless road.
BP: So Highway 10 that that was the main thoroughfare.
KD: Between Dallas and Fort Worth at the time it was And Hurst was just a postage stamp a place that they had a post office and a general store up there on 10 and then Bell Helicopter comes in and that's where the need for houses and he started building houses. Then we moved up off of Bedford Euless road in the Shady Oaks area.
BP: So your dad was a developer?
KD: He was a builder and then later developer and a commercial real estate agent and broker and so he was actually the mayor of Hurst in 1964.
BP: I did not know that!
KD: And served on the City Council so. And then we moved over off of a down Bedford Euless road down towards the mall and so I like to tell all those snobs that I went to Bedford junior high with an LD Bell that I grew up south of the freeway. I grew up in South Hurst.
BP: South Hurst!
KD: It was a tough part of town the south Hurst.
BP: Ah well it's probably a little tougher now than it was when you were there.
KD: As far as you know. So my dad bought a couple of acres off of Beverly Hills Road and built a house down there and we that's where we grew up from 1966 and I think they sold that property in 2006 .
BP: So you went to school your whole academic career out here.
KD:
HEB, went to Donna Park Elementary School which is over there between the precinct in Bedford Euless and Melbourne down by the mall and pipeline kind in that quadrant and then they built Bedford junior high .
So you ended up going out to Bedford junior high and missed the boundary there for going to Hurst junior high . But you know few streets down to the south and then we went to Bell and went to Bell what Bell moved to the to where it is now used to be Central Junior High.
Yeah and they moved over to the new campus I think in 1966 about the about the first year I went to elementary school.
BP: So you graduated what 78?
KD: 78.
There was about eight hundred in our class at the time and three grades.
So it was the with the helicopter plant growing through the 60s and the 70s so many people work for Bell.
BP: Yeah
KD: that if you had friends they couldn't believe that your dad didnt work at Bell Helicopter because everybody else did. They're building all those Huey's and cobras that we're going to Vietnam from you know the early 60s into into the mid 70s.
BP:
So what made you want to be a lawyer?
KD: I always thought it was interesting that in the television shows and the things you'd see it didn't know anybody really. I was the first person in three generations on both sides of the family to graduate from college so we didn't come from a group of educated folks that had gotten college had a lot of hard work and people. And then I would be around my parents and their friends and a lot of their friends were in the real estate business or they were lawyers and I thought man that that seems pretty interesting because they seem to be doing pretty well.
BP: Well when you graduate from high school did you know you wanted to go into law school?
KD:
No I was going to the NBA and going to college to play basketball and then as the NBA and you know 15 year career.
BP:
Well you know we live laugh a little bit about that, but you were quite the basketball player in your day.
KD: We had a lot of success .
We had a really good team at Bell . We had really good coach that taught us how to play a style that let us go on and play in college. We we won our district and got in the playoffs. We didn't do as well in the playoffs as we thought we should have but we won 29 games when I was a senior which I think is still a record at Bell and we're twenty nine and four and it was it was it was a heck of a run . Five of us had scholarships and six won the next year so we had guys that could play and it was good . They're still my friends today I saw it I saw a couple of them on Saturday night at a banquet and still hang out and the needles still come out and it was a lot of fun.
BP:
Well you went on down to Houston I think.
KD: I did.
I got the chance to play in a high school all star game Texas versus Oklahoma which was a neat experience. It's called faith seven game. We played two games over a weekend and just got to meet a lot of other players and then I was going to the University of Houston on a basketball scholarship to play down there there weren't freshman teams . So you were a part of the varsity . I didn't play much . It was it was eye opening experience.
BP: Was that the first time you hadn't been the star of a team?
KD: Yeah. And it was the first pickup game I played in there were four NBA players that were playing in it down there . So go down before school starts to get a pickup game . And it was Moses Malone, Phil Ford, Scott Wedman and Otis Birdsong who was from Houston.
And it's like OK this is interesting you know. So the first game I'm in it I got to cover Otis Birdsong who was an All-American at Houston long NBA career about 6′ 4″ guy . He's silky smooth good scorer so he gets we go down he gets the ball and he goes up for his first shot and I'll go up with him and I'm right there and he misses the shot I'm thinking here we go.
Here we go. We're off to the NBA. This is this is the fairy tale . And then I never saw him again. The rest of the game I never I never realized where he was!
BP: Just running around.
KD: I drove in a guy I drove in to the to the lane and shot a high school layup and Moses Malone knocked at 14 rows up in the Hoffinen's pavilion in Houston and I didn't go inside for another six months after that I thought .
So it was interesting Guy Lewis was the coach he's legendary sure Basketball Hall of Fame member and he was just he was just a character and there were a lot of characters in the Southwest Conference that but now I realize Houston was a commuter school and it's not some place that I really didn't like it that much. There were inherent issues to be in in that program at that time. There's a lot of shenanigans that were going on and I said you know what, That's great . I thought this is what I wanted but it was not.
BP:
Well Houston was just on the cusp of a breaking in.
KD: Yeah we won it. We were…
Well they had won the Southwest Conference a year before I got there and they were up and coming program but no one had any idea where they would soar to in the years ahead. And so in seeing and Guy years later you know I would have gone to four Final Fours in five years or three and for some it's just ridiculous playing and the guy said something like that in what I had seen him again that TCU game in Fort Worth.
I said Yes sir but then I wouldn't had this national championship ring that I have on right now.
BP: Well, and that was just about to ask you that you left Houston after your freshman year was it Sophomore?
KD: It was after my freshman year.
BP: And you went where?
KD: Well I couldn't.
I had to reconcile having the talent to play at college but really the scholarship part of it because it made a huge difference to have your college paid for. And so I had a couple of different options played in some leagues and then a friend of a friend said Hey go talk to this school in Oklahoma City. So I met with a recruiter from there in Dallas and then I drove up to Oklahoma City to this college. It was called Bethany Nazarene College. There was about 1200 students. It was a church school liberal arts Christian college and so I think Houston had you know forty or forty five thousand students the year before so you're going from culture shock. But I.
BP: Houston to Oklahoma!
KD: Houston Oklahoma Houston too you know big public university to a liberal arts Christian college . And I thought well I'm gonna play somewhere and transferring from NC double a Division 1 to NAI I which at the time there were eight or nine hundred in a high schools . It was a thriving classification of small college sports . So you only had to sit out a semester to go from Division One to NAI . So I thought OK so I set out a semester catch up on academics and then I'll be able to graduate on time . And it was it was culturally shocking to go to that year to go to chapel every day and attend at eight thirty in the mornings when they want you to go to the chapel and if you didn't pass the chapel you had to take three more hours of religion religion for every year you didn't pass the chapel. So I have a minor in religion based on my failure to attend the chapel.
But you know it turned out to turn out to be a tremendous decision because we met people lifelong friends. I met a coach who was a Fulbright scholar. He was a first year coach but he was he was a he was a college professor. He believed in the education and I got the emphasis was placed at the Bethany on the education and the sports are just kind of part of it. And then we had the perfect storm my after my sophomore year my junior year we had the perfect storm of everything come together and we had a tremendous team. We had we won 36 games that year.
BP:
This was your junior year ? When did you, did you know there was something special about this team when you got there?
KD:
Oh yeah . You knew that this team was special because you've I've never been around that many competitive human beings it one time it was everything was a competition whether it was shooting free throws or scrim edging or getting seats on the vans or the buses or we would longtime stop in rural Oklahoma and you get to go into order McDonald's to eat on the way after the game and you had five dollars and the competition was who could get the closest to five dollars without going over and everybody would throw a dollar in or we'd get in the card games. Ah my favorite story about that team is we were in Hawaii because Bethany had money and we traveled. We played in Mexico. Some guys went to Australia. We went to France and play. So we played all over the planet. We're playing in Hawaii and somebody has a Nerf football back in. This is back in 1981 and we're down on some grass at the Hyatt north of Hawaii who up on the north shore and we started we started touch football game. Well would you start anything with this group of guys. It is. It's on and so it's getting ready to come to blows and somebody is going take somebody and we're all here playing in a a college game . We're gonna play you know hope Brigham Young Kawhi in there we're gonna go over and play Hilo. And here comes the coaches running down from the hotel to this thing to take away the ball and tell us that you can't play because they knew this group of guys and we that's that's what we did and we competed on well there was a video game or whatever it was it was always competitive.
BP: Well it bodes well because she went on to win the national champion.
KD: We did.
We went to Kansas City. We won five games in six days and we won the first overtime national championship game in the NAI history and we won eighty six to eighty five and against Alabama Huntsville. And it was it was just something that we always will remember and to this day I see these guys all the time. We one of them lost a family member and we were all rallied around for that in January and we're just they're just we're just there together.
That's how it works and so we'll do a reunion here in Dallas Fort Worth in August and we'll get on the golf course and start the competition has now. Nobody is any good. Maybe two people are but the competition starts when you go to the first tee.
You know comments like those are really good looking shorts do they make those in men's shorts too.
BP: Yeah yeah.
KD: And you're you're back at each other all the time but it's okay .
It's always been okay if we pick on each other or you know we're needling each other but if somebody else comes into the circle it you know I can pick on my little brother all I want to but you can't touching because it's six and it's going to come to blows. A couple of guys you know really big guys, I've spent more time in my youth than I could remember talking them out of punching somebody you don't really want to hit this guy.
BP: So lets just walk
KD: So that was my junior year so my senior year it was you know what are you going to do . It's not going to be that was once in a lifetime catching fire in a bottle and you just said you know I'm here I'm like finish my degree on time and try to make good enough grades to to get into law school .
BP: Well had you planned to do law school by that time?
KD:
Yeah I got up there to Bethany and kind of found my spot in what I liked in the political science realm and the you know a pre law kind of thing I liked to read the cases back then and I don't like to read them now but I did back then when you were reading all the famous cases where the Brown versus Board of Education or any of the ones that we've looked at Roe versus Wade anything that we've looked at that's had historical implications . And and I made really I did really well in school when I got up and said OK . This is what I want to do . And this is how I'm gonna do it .
BP: You know our friendship has been great over the years and one thing that you have that that I dont and that is faith plays a huge part in your life.
KD: Yeah it is .
BP: And I've always respected that and admired that. That's curious . Did did you have that kind of faith before you went to Bethany or did you find it at Bethany.
KD:
It is I had it in I got it from a very unique place . My paternal grandmother was this great woman of God. And when we would go stay with her she had a little place at Cheeks/Sparger & 26 . Then she had a house and she had a barn back in the back. And a couple of milk cows. And she'd had a vegetable garden and go all the way to the corner. And you kind of go out there and Colleyville that in the early 60s was like being out in the country and she would be milking cows, shooting the cats with a shot of milk that are out there lined up singing gospel songs that at the peak of her lungs. And she told us all the stories of the Bible. And I just always admired her because my mother my paternal grandmother Enda Katherine she was always happy no matter what her circumstance. She didn't have a lot. She didn't have a little she didn't have too much, but she was always happy and she always attributed to her relationship with God and her salvation through Jesus Christ. And so that's something I always admired about and got to go to church with her.. and my parents weren't as much that way but it was just it was a spark that started with me when I was little bitty because she was she was the grandparent that I would always want to be around.
BP:
That's a great great story you know. The other thing that that I find really interesting about you Kent is that you've got so many different interests. And one of them is playing music. I mentioned the studio in your room office. How did you get into play in music?
KD:
I always wanted to play the guitar when I was little bitty . And you know I couldn't I didn't want to . I just I saw it on the television or saw it do you know different things might have been Beatles or you know Elvis movies or stuff like that . I thought that be cool play the guitar so my dad brought me back a guitar from a trip to Laredo one time . So I would start to mess with it and then start to take lessons . But but I just didn't . I didn't like what they were teaching me . I didn't want to play when the Saints Come Marching In. I wanted to play I want to hold your hand.
BP: Right!
KD: And so I got to be about seventh grade and we were still starting take lessons again and a bunch of my friends were playing in different different instruments and learning and so we got to be eighth or ninth graders and we said why we do a band . And so OK so we'd all get together and it was like we're all playing guitars and it's like 'Well somebody needs to play the bass' because we need a better answer. I play the bass you know. So I got my bass guitar when I was 14 or 15 years old and that's still to this day that was the best job I ever had was playing in this four piece band that would play dances at the Lions Club or at the Boys Ranch.
And you know the first time we played it was like we had 10 songs that were playing five hours the slot. What kind of planning was this to your plate song eight times and so we kind of. And it was kind of exhilarating and fun so we just.
That was when we were in junior high and so we just kept at it and then we started getting better things and then we get these dances where you know you're paying 300 bucks or two hundred bucks to four guys thought about it in 1976 when it costs you know six dollars to fill your car up. I mean we were like we were rolling in it. So we we played and then I continued to play and guitar and do that and would play weddings sometimes where singer company a singer or something like do that through the 80s and then started came back here and started playing in some bands and doing some recording with some guys. And I got to thinking about it one day probably in 2000 and I was thinking the most fun I ever had playing music was when I played with those guys. So I went back to those guys and I said let's do this again, let's do a Let's do a 70s Halloween party and we'll invite everybody we'll dress as a 70s band we'll get up and start playing music and that was October of 2001 and we did. And then it's just grown into this monster from that point so we've been going on 18 years of this incarnation and done some incredible things.
BP: All the guys from back in high school?
KD: Where we started with the four of us came back and there were there was an extra or two . And then there had been some changes so now there's three of us that have been doing it since 1974.
BP: That's fun.
KD: Seventy four to seventy eight and then back together in in 2001 . And we've improved a lot . We've added some other musicians that have made us a lot better but it's just always it's always fun to get out and play.
BP:
Well in fact you got the opportunity to combine your sports with your music over the weekend.
KD: Yeah I had a double header this week and we played the Hertz police officers association annual banquet at the Hurst convention center and I would hope he buys everybody the Hurst convention center . But it is nice it is as fine a hotel type facility that you'll get to play in . It's well-run and just a really good place . So we play there for the policeman's ball on Friday night and then the HEB Sports Hall of Fame which I'm a member of, we had their their annual banquet the next night in the same room. So it was it was a double header at the Hurst convention center.
BP:
How much fun you know up. You ever think about maybe I should have gotten out of the HEB Area. Maybe I should have moved away done something different?
KD:
Well I did move away . You know when I went to Houston when I look back to Oklahoma. But this was always going to be home.
And when we got out of law school we came back and bought a house and built a house in Hurst and took a job in Dallas and you know this is kind of the area we wanted to raise children .
BP:
When you went to law school . Were you married at the time?
KD:
No I got married after the first year.
BP: Where did you meet Lisa?
KD: We went to high school together. But we were in a class of eight hundreds. So we didn't really we kind of knew who each other was but we ran into each other ran into each other at Northeast mall.
BP: She remember used to study basketball player who played bass on a Saturday.
KD: I don't recall. But perhaps that's how it was.
And so we ran into each other at the mall and she had dated someone else in high school and I had dated others and we she one date and so I would ask her out and remembered where she told me where she worked and asked her out the next day about.
And that was forty years ago last December.
BP: Congratulations.
KD: Yep.
BP: Very few things in life You do for 40.
KD: Yeah it's . We've been married nearly 36. So yeah she's amazing.
BP:
That's fantastic . Well when you go to law school . Did you know you wanted to do real estate?
KD:
I thought I did.
BP: Cause of your dad?
KD: Well a little bit of that.
And then also I the litigators are litigators. I'd had coaches yelling at me and tell me what to do for you know a lot of my life. And I kind of tied that with judges. You've got judges they're kind of like a referees in a game or or a coach. That's kind of yelling at you what you need to do in life. I don't. I was past that point in my life. I didn't want to have the the you can't get a technical with a judge I think they either find you put you in jail if you if you smart off you're not just gonna get thrown out you're gonna get
BP: a little more significant trouble.
KD: Well yeah . And then being a physical game that basketball was in the competitiveness and fisticuffs couldn't. So I maybe wasn't the best suited for a courtroom type of practice because I can't really go punch somebody out after the game.
BP:
Well it's usually not good to do that in the real estate business either.
KD: Now but I don't have to worry about that usually everybody's trying to work towards a common goal. If you're fighting with somebody over insurance dollars for some of your clients that's been you know severely injured .
It's you're you're you're fighting over something a lot of times in a real estate transaction we're trying to get from point A to Point B the the buyer wants to buy and the seller wants to sell and everybody while you might be picking over this detail or that detail everybody is still trying to work towards the same goal which you don't have that blessing in what you're doing because you're having to fight tooth and nail for your clients.
BP: Well yeah that's the truth. But at this point in my career I find that lawyers of the same vintage as I am. We're really all about the same. We want to just move the case forward. We all know how the system works. What was got to be done. What. You know what I's have to be dotted what T's have to be crossed. And you know unless you get up against some of the crazy lawyers over in Dallas
KD: or the Millennials
BP: or the Millennials . Yeah but at this at this stage in our career it's really I'm having a lot of fun probably more fun than I've ever had practice and law. That you know you were never with a big farm were you?
KD:
Yeah I was with.
There was a firm right out of school
BP: Because I knew you'd gone with Misk and and
KD:
No I was with a firm called Bryce and Mankoff that it was a 50 lawyer firm that had when I first start had three offices in downtown we ended up at the Crescent . And I worked there a bit in the real estate and financial institutions department. It was it was interesting but there was a lot of those. There's way too many chiefs and not enough Indians. And I just didn't I just that culture didn't fit well because I was going to we were going to start having children we were going to coach we're going to be at plays or recitals or whatever we were gonna be at. I was going to be involved in the community and that was not going to be congruent with the lifestyle that they wanted you to live by owning you for you know 80 hours a week or something like that. So it was a good time to step off.
BP:
Yeah you know that's something I think a lot of young lawyers don't realize is that when you go to work for the big law firm it's really no different than corporate America.
KD: It's identical
BP: it's the exact same thing and you don't have the freedom and the luxury that we do now running our own practice right . You know it's just when you get outside of that box and get to do something on your own and be responsible. It's scary as the dickens. I mean you know you wonder about how you're gonna make income, how you're going to pay payroll, all of those kinds of things that you come to grips with as as a small business owner
KD: You're a business owner and a lawyer. So you've got two different hats your wearing.
BP: Which you know I up I was very fortunate when I got out and started practicing on my own or with smaller group. I was either so naive so stupid or oblivious. I didn't worry about the business aspect of it as much as I do now today.
KD: Right.
BP: I had experience that is experience in it and I don't worry about as much . I have more fun but it really is practice and loss really no different than running an auto shop or running like my dad was an electrical contractor. You've got to run a business and it's a great business to be in. I think I've certainly enjoyed it. But how did you find your way through to where you are now?
KD:
Well I I that the large firm I learned how to do large transactions whether it was you know those that appear in the Wall Street Journal or those that are involved in buying and sell in developing but also picked up a foreclosure practice. It was timing part of it is the foreclosure. We had a recession in 86 and 87 if you'll recall the bottom fell out.
BP:
Just about the time we started law school.
KD: Just when we started. Got started practicing.
And so they didn't have anybody. They represented a bunch financial institutions. They didn't have any buy that did foreclosure so I kind of developed the foreclosure deal and then it was starting there. There were some rumblings going on between the people and I said I can go do this by myself. And when I left and a bunch of the foreclosure that I was the contact person they followed me out the door and that's when I started doing that. And that was pretty good for a bit but then we had a situation here in Texas called the Southwest plan where they the government came in and wrote down certain financial institutions and merged them with others and then guess who got all the work the big law firms. And so I was doing a little title business which we still do and then fell in with some other different partnerships over the years. But I'd really had an entrepreneurial spirit about wanting to control what I made and wanting to control who I worked for and how I did my work. And that's evolved like you're talking about the business part of it. It's evolved over the years. I've been back and it's solo position for going on 10 years it'll be 10 years in June and it's been I've gotten better. I've gotten better at the business aspect of it. I've gotten better at knowing when to say no because if you're in our position you cannot say yes to everything that comes in as much as you feel for the people or as much as you like to have them help them there sometimes you just need to say no.
BP:
Well you know that's so true we were laughing before we started the podcast about time management issues and really you know I guess part of it is experience and where we are in life but you start looking on you know time is all we got and where you might have picked up on something in our younger years trying to help somebody you're a lot more picky as it comes down because not that you don't want to help them . You absolutely want to do it but you realize I can't help them.
KD:
And that's that's that's crucial. That's the key fact. It's not a matter of your desire to help someone who can't who's been wronged by an insurance company or a traumatic injury with us it's we see a lot of it in the probate stuff and it'll be when someone doesn't have a will and they don't have really enough money to pay for the administration without a will. It's like I don't really I can't take your money. I can't take your five thousand dollars to get your probate all done properly for you to go collect eight hundred dollars out of a bank account. It's economically impractical and it's immoral and you're just not going to do that.
BP:
Well it is and I I've come to the realization that I can do more good, effect more change, and achieve more for everybody involved, i
If I'm more selective and picky about what it is I am going to try
LD: Right. Because the ones that you really that you can really fight for then you have the time to fight for when instead of your feeling overloaded and you know we're always worried about you know the proper amount of attention to a particular client's file or case and then managing the business aspect of it is how many staff members do I need what where am I operating in an optimal level. Is it you know to staff members or whatever we we do a little different practice because a lot of what we do is document preparation practice. So it's it's volume it's stuff coming through on a conveyor belt. And we did it's not very time consuming and the fees are relatively smaller. But if you're making a two hundred and ten dollar fee that's not a a large attorney fee but if you do if you do 500 transactions a month then it starts to be a substantial it's just But it's it's running a business it's how what are what are operational efficiencies that we need to have in place to process the number of claims or cases or files that are coming through an office on a given month.
BP: You know my practice as I set down about I guess it was five years ago now maybe four and read the E-myth revisited. And if you haven't read that book it's a great book to read but that's when I finally really realized that being a lawyer is really no different than like we're saying earlier a plumber or electrician. Yes mentioned my dad was electrical ran electrical contracting business. We've still got to make the payroll we've got to do the advertising we've got to do the marketing you've got to do everything that goes with it. And it really helped me focus my mind on 'Okay how am I going to do this' because I've seen the practice changed dramatically over the 30 something years that you've not been practicing. I mean even still to this day about 70 percent thereabouts of the cases that I handle come through referrals. But I have found that people, even if they're referred by their priest or their their father or their best friend they're still going to do a lot of investigating and looking you up and trying to figure things out about you before they hire you.
What have you found to be the biggest change in how you approach the practice of law and not just the practices that made the business of law over the last 35 years that you that you're struggling with or that you feel like you're you're working on constantly.
KD: It's just the management of what to what to take and what to leave and then how to efficiently process one thing need to be real quiet noise because you don't want the big firms to understand this is a business that's so true.
So they can't charge that much if it's if it's a it's a profession you know it's unlike it's not it's a business and we both embrace that concept.
So for me from the business aspect of it it's what's the fine balance of of what you can bring in what you staff up you know how do you manage your. How do you manage your pipelines or your case load what does that look like is making sure that everybody is getting quality legal representation for an amount that's affordable and that when your client finishes with the work you've done for them they said you know what Kent or Brad they did exactly what they said they were going to do and they protected my rights or my interests and they did it at a reasonable fee. And that's where your referrals come from.
BP:
Well it is and you've got to stay in front of all you know because it's just like you've probably had surgery in your life. Can you remember the doctor that did your appendectomy and now you there is no way I could remember that guy. So I think you know we've got to take that extra step as a good business owner and stay in constant contact with our clients . And it's not you know there's so much of a negative stigma I think with marketing you know guys in my profession especially have made it just horrible from the strong arms and the you know the hammer yielding, screaming at the camera type stuff. And so there's a real reluctance on a lot of people to advertise. But what I've come to expect or to understand I should say is that you've got to do it but you've got to do it right. And you you don't want to turn off those people. And the second thing that I've really come to understand is well we're kind of touched on you can't be everything to everybody. And I read a quote today it says I don't have the formula for success but I have it for failure and that is to be everything to everybody all the time
KD: That's guaranteed.
BP: And that's been a real hard thing to understand.
KD:
Well I think one of the things that we have seen over our career span is the the idea of advertising or promotion or information. And I think that coming out of school you're you're hit over the head with bare tree and you know ambulance chasing and all the things that you know the large firms that we worked at wanted us to believe that advertising is beneath us. This is a profession. This is a calling. It's not. That's changed a bit because I think with the way the society has gone with it's just instantaneous.
If someone can't find you in contacts or reach you through your Web site or through that they're off to the next thing.
BP: Well there is. That's exactly right . And that's why I think it's so important to though is you've got to stand apart from what everybody else is doing.
KD: Exactly.
BP: Because in my profession if you go to those Web sites no fail as we recover aggressive representation 33 years experience you've got well I would hope all of us .
Yeah . Aggressive preppy .
KD: I'm gonna be passively representing your interests and I'm gonna hope with all my heart that the insurance company pays you.
BP: Yes yes I know.
I don't think that works and what I think what people are really looking for is someone they can relate to. They've got to know like and trust you. But as I said earlier they they will not just take it at face value just because their father or their doctor or their priest or rabbi told them hey go talk.
KD: They want to affirm what they were told.
BP: And so you've got to have a way to do that. And you know your Website for instance I think it is is one of the best Web sites I've ever seen. It's unique it's different. It doesn't scream I'm a lawyer with 33 years experience and I'm the best there is what it says is I'm a real person human. Faith is a huge part of my life. Music is a huge part of my life and I care about you and what what you're going through and who should help you.
KD: I was I was
Website paralyzed for a lot of years because I hated everything that I saw. I hated what I saw.
Typical Law Web site. Hunter green, Burgundy, navy blue. You know sitting with your arms crossed you know climbing up the courthouse steps. It's all the stuff that I didn't really like about it. And then I finally got to a spot and that talks about us and our our our growing as as attorneys and practicing attorneys over these years. I got some points that look nobody's presenting me with what I want. Let me come up with it conceptually and show it to them. So yeah there's gonna be a Fender Telecaster on there. There's got to be you know some photographs that were made for of the office where we work. It's not stock photos we did everything ourselves because that's who we are and that's what we could do better with our interaction with our website. We're working on that over the years and getting better but we just it is it is who we are.
BP:
Well I think it does a great job of communicating that and you know in that regard you don't do just real estate title work but you do a substantial amount of probate and estate planning and stuff. How did you how did you evolve into that?
KD:
Well coming out of the financial practices the institution part of a larger firm you know real estate is changing you know loaning and transferring title to property and different things.
Well the probate process is moving assets real estate or personal property from someone who's passed away into the loved ones or either into the ones that are fighting over what they left and I started that process probably 30 years ago or so that you know 28 and I got on the appointment list with probate court number one one and number two in Fort Worth probate court. Number one was Judge Bob Burnett. He's passed away. What a guy . I just I loved him. He was just he was great.
He was a no nonsense he you know he would go to hearings at John Peter Smith Hospital on proposed mental patients and then we'd all go to lunch at the Paris coffee shop and it was all part everybody was part of the same group and everything that we were on the proposed mental patients you were appointed to represent them in a probable cause hearing and you were representing them if it went to a trial if they didn't sign a waiver so I always had a problem with how could a mental patient sign a waiver.
But that's an that's another that's another bar talk.
And so you know we would joke among the staff and in Bob's position judge Burnett's position was well they weren't sick they probably wouldn't be here. So you were not real successful in defending in most of these people were ill and needed to be committed and taken care of one thing that that did it convicted me of my prejudice and the prejudice was this is that you know you need to get a job, you need to get off you know whatever drugs your on, or whatever you needed to go get a job and that'll solve all your problems . What I'm still believing that somebody can have cancer or somebody can have a heart disease but I'm not believing that they can have a disease of their mind and it just convicted me about you know six months into doing that and that's where I also met Judge Pat Ferchill who just retired January a year ago.
He was in court 2. And so I got on their appointment dockets and that's where I started learning the probate process and met a lot of the old great probate lawyers in town and you would be point appointed what's called an attorney ad litem. You're representing missing or add are unknown heirs in cases or you're representing proposed mental patients and you earned their respect by how you worked your your docket and that's what got me into the probate stuff you know up .
BP: I'm sure we can't mention the name but I was you've had some pretty interesting cases over the years. Yes we had. There was one that involved a singer not from this country famous singer. Yeah. Can you tell a little bit about that case without revealing too much of it. Just it was hysterical.
DK: Yeah.
The the singer had fathered a child here in Texas and the high jinks just went downhill from there.
So it was it was quite it was quite of an adventure.
And it was
BP: I remember you going through that adventure just kind of like you won't believe what happened next.
DK: Yes this is the latest in that event that I always thought it was funny because you're the musician and the probate guy and it all comes together in a perfect storm.
So yeah it was it was it was an interesting thing that went on for a lot of years and it's still going on in some ways . And but it's the thing and the funny thing about the probate stuff is that for my first thirty two years or 31 years I had three judges. Burnett, King and Ferchill.
I guess that's right. And then in the last year I've got to do what to do when we get to two new judges in Fort Worth that are learning their way and they're going to be great.
They're going to do a good job. The staffs are still in place and it's helping younger folks that are on the bench now understand their responsibilities.
BP: Has the business of probate are people more conscientious about getting their states in order or.
KD:
What people don't understand about the planning your planning is a gift to your loved ones. You've said I care about you and I'm not gonna let you go through this jack ass rodeo of what happens when you don't have a will. And so what I find funny about it is is that as a lawyer will we're going to make five or ten times as much of a fee, if someone doesn't have a will as if they do have a will. And so you would encourage people to do it but sometimes you can't get over the mental block of. some people think Suze I write this sign this paper and we get hit by a bus or the plane is going to crash or something like that has nothing to do with it. And you just you I can't tell you the number of times each month that people have come in and said if we hadn't known this was this easy we would have done it 10, 15, 20 years ago. And so that's like a pat on the back a job well done because you're just helping them reduced to writing what they want to do. And talkin about but they're different firms and do that different ways. You've talked about the different long arm of the law strong arm of the law and and hammer, hammer and anvils and missiles or whatever it is this week with the latest advertising is so often in the last 10 years someone's come into the office and they bring a three ring binder, that's about six inches thick, that's got all these trusts and all this other stuff. And there's no way these people needed that much work. They needed you know a tenth of that were prepaid five or ten thousand dollars for this package. And it was not even properly transferred into a trust or things were not signed. It's just it's a joke . And you tell people what you pay for this and who sold it to you and what did you do. Well we needed a trust. Well not necessarily. That's the thing that bugs me is seeing people being sold a bunch of stuff that they didn't need .
BP:
Yeah . It doesn't matter whether you're selling cars. Real estate goes…..
KD: It's just a business and the business.
BP: That's so true. So you know you and I as we mentioned we've both been to this about thirty three years now.
KD: Yeah. We turned over that odometer last November
BP: And you've been a great friend we have gotten together on a weekly basis at least couple of times a month and just talked about and shared thoughts about business and how do we how do we. Everything from hiring to firing to marketing to paper clips and pencils.
KD:
Well it's deeper than that too. We have lived life together. Well when we have gone through tragedies at my house, you've been there. When you've had weddings to celebrate, we've been there. It's it's We do that we talk about the business but we that's the thing that's important is that we live life together.
BP: Well and we've got the mindset we share a mindset of just like your grandmother .
KD: Right yeah.
BP: Now she she may or may not had a lot of things in life but one thing she did have was happiness and a and a positive attitude . And boy doesn't that make a difference and it does every year . Whatever you try to do
KD: it does.
BP: Where do you where do you see yourself in 10 years.
KD: I think that I'll still be practicing. I think that I've seen too many people that retire and die.
I don't know what to do and they just die or they whether they're going to play golf every day and or go fishing. And it's not the same. So I think that I will work until I am physically or mentally unable to work it. It may be two days a week. It may be three days a week it may be one day a week. You just don't ever know how much you're going to do it. But I don't plan on stopping. We worked too hard for this license. We've got too many war paint wrinkles from all that we've done and we're having fun right.
BP:
And we're having fun.
KD: And it's it's a it's an honorable profession . And I'd you know there's gold back to fight retirements not in the Bible it's not in the Bible.
We weren't created to retire. We were created to work and whatever that work is whatever if we're if we're growing soybeans or we're practicing law,
we were created to do something not to just sit on the porch and say my look what I've accomplished. And that's why I think that I will continue to do something. And if it gets to a point where you know it's a couple of days a week then it's maybe mentoring younger attorneys or you know trying to be a you know a burning bush for somebody who needs questions answered because we've seen things that they may not have seen.
BP: Yeah you know that's something you and I've talked about a lot this week. We share the same belief in that regard that if if we slow down where we'll slow down. And you know I'm trying to gear my practice more to where I can still be active and involved but be very even more selective just laser focus. If it's still bring in the other cases to let some of the younger lawyers happen and maybe maybe I've got something to share with them you know a little little mentoring it going on but I don't know how the heck we got to be this age. We're still very very young.
KD:
You know at that you know what that grandmother that we've been talking about she said old is 15 years ahead of where you are today given time.
So when she's at you know 80 going to pick up that lady who's 95 to drive her to church that little old lady needs help in a church. So it's a mindset and a perspective.
BP: Well and in that vein I saw another quote he says the future is what we make it.
KD: Yeah.
BP: And that is so absolutely true. Well Kent, I can't tell you how much I appreciate you riding this virgin voyage with me today. First podcast. Glad you asked me . Oh I couldn't think of anybody else better to kick it off with . I really do appreciate you and the friendship and then sharing your story with everybody as I told you, getting ready for this. I think you've got an incredible story. And you are one of the most well-rounded individuals I know. And it's just fun to see all your tentacles in different different things.
KD: Thanks I appreciate.
BP: I appreciate you being here.
KD: Glad to do it.
BP: Thanks.
KD: You bet.
BP:
I'm Brad Parker, the attorney you want but hope you never need. And thanks for listening to another edition of Bar Talk: the musings of attorneys entrepreneurs and other interesting people. If you like our show and want to know more, check out our Website at parkerlawfirm.com. Please leave us a review on iTunes Spotify or your preferred podcast outlet. See you next time.